Miraculous Hot Springs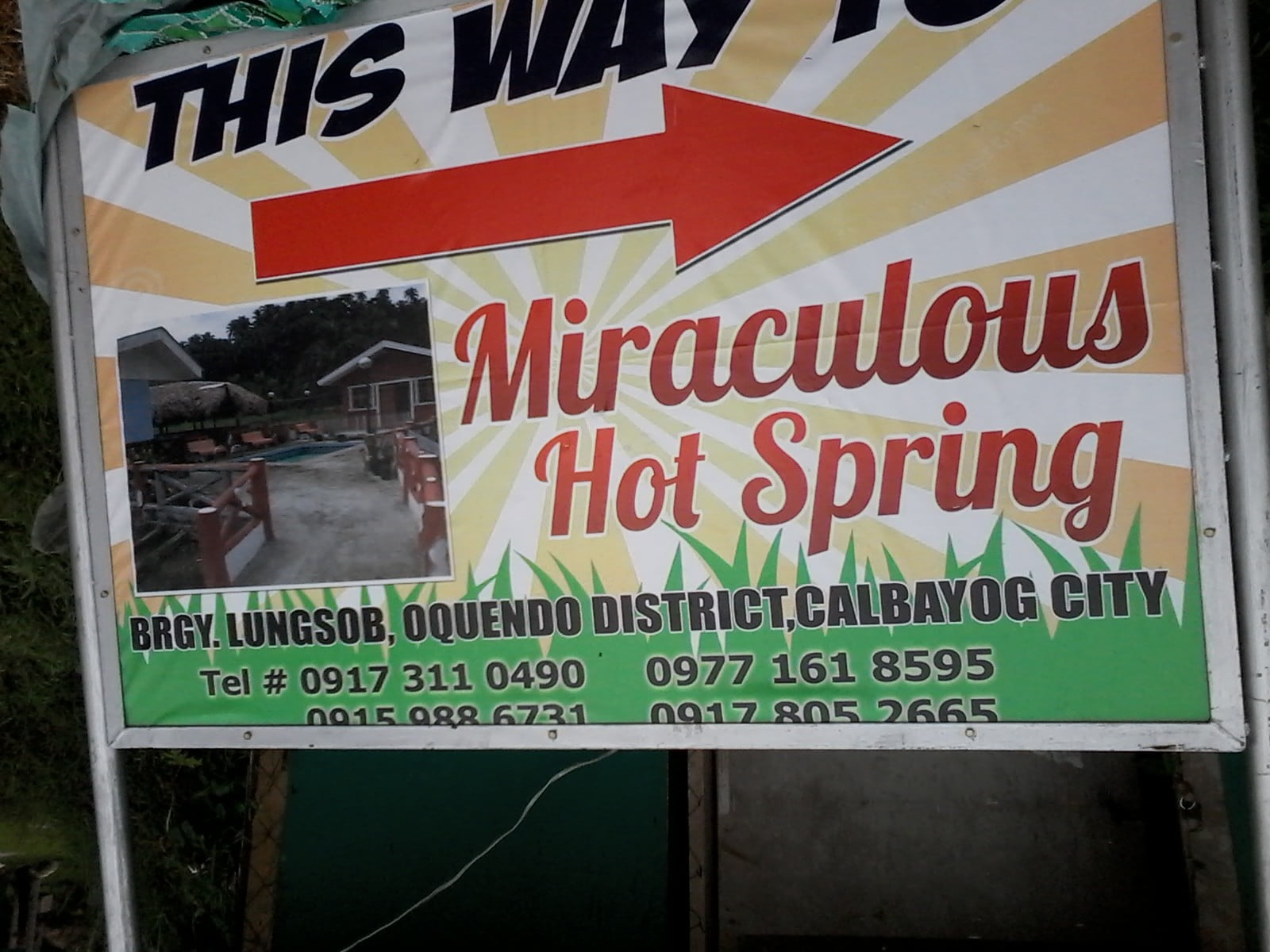 Okay, I've got at least 3 posts to write for this blog and I still need to update my UJ Space A Info blog, so I better get started. I am in the process of relaying our experience on our latest Space A trip, and I already have to posts written for that, but I'd like to deviate from that for a post or 2 and get everyone up to date as to what has been going on around here in Calbayog for my extended family and me. We recently, Sunday Oct 4th, went to Miraculous Hot Springs that is located in Barangay Lungsob, Oquendo District of Calbayog City.  We left the house at approximately 0820 and arrived at the Springs approximately 0920.  We drove to a pick up location and had to take a small boat from there.  The boat ride and the walk up the stairs at the Springs was about half of the travel time.  It would have been a little faster, but it was low tide and we got stuck in the mud for a few minutes.
I saw a sign while there that was upside down against one of the buildings and took a picture of it.  It has all the contact information on it.  I also took like 4 videos.  Three of those videos were while on the water traveling to the Springs and the last one was of the resort.  I'll have those on here, if I can figure out how to get it from Bluetooth.  It's not working at the moment. I liked this place and wouldn't mind going again, except next time maybe during high tide so we won't get stuck in the mud again, although it wasn't so bad.  The only down part of the whole trip was that I found out that a liter of Red Horse or San Miguel costs P100.  If I had known that, I would have brought my own.  Also, like many places here in the Philippines, they have lots of flies, so be prepared to cover your food up. The following video is the 2nd of 5 videos on the way to the hot springs.  1st video was to large to load here.  I will put it on You Tube for anyone that want to view it. To hot springs 2 The area we had was a 2 story pavillion and there was a bedroom upstairs.  Marianne used that area for when the baby got too fussy.  The area itself was nice looking and clean.  There is a nice sized swimming pool that was like 5 feet deep at it's deepest, plus a smaller "warmer' pool.  They also had a "hot" spring there, but it was fenced off.  The employees were dipping water from it and putting that water in the "warmer" pool.  My relatives, jokingly (I think), said that if I got in the "hot" water that they would just throw some vegetables and seasoning in there with me. We stayed there until about 4:25 and headed back.  It was easier on the way back because it was high tide so no mud sticking.  Only 2 of the 5 videos I took going to the hot springs will load here.  The others are too large. To hot springs 3Some of Ludy's (Mar's wife) came along with us there.  I found out that one of her sisters makes peanut butter at home.  She had some there and I sampled it.  I liked it.   If you know me, that is not usual.  For a fat guy, I'm a picky eater.  Anyway, Lita ordered some of the crunchy version of the peanut butter.  I don't know what size she ordered though.  If you want some to give it a try, let me know.  She has 3 sizes.  Small is P60, Medium is P100 and Large is P135.  She showed me how tall they were with her fingers and it seemed to me that it would be way cheaper to get the peanut butter from her instead of buying it at the store.  I'll be happy to relay any orders to her for you.  I don't know how long it takes to get it, since she makes it after you order.  She did say that it was all natural with  no preservatives, so if you're into that kind of stuff, there's that.  I just like it because it tastes good.
Well that's all for this post.  I still have some info for another post besides our trip.  I might wait to get a little bit more information before typing that one up though.  Of course I can always stretch it out, like I have so many times before.  Hopefully not making it too boring. Salamat Y'all
Related Posts: