Wednesday – 25 May 2011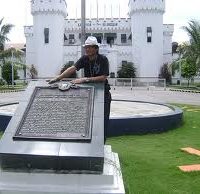 [smartads] Muntinlupa was once notoriously known as the location of the national insular penitentiary, the New Bilibid Prison, where the country's most dangerous criminals were incarcerated. Consequently, Muntinlupa or "Munti" became synonymous with the national penitentiary although it has largely shaken-off this negative image to become one of the most progressive cities in the country.
Muntinlupa is also home to some of the best commercial establishments in the metropolis and is the location of Ayala Alabang Village, one of the country's biggest and most expensive residential communities, where many of the wealthy and famous live.
http://www.muntinlupacity.gov.ph/v2/ – (The official website of Muntinlupa City)
Useless Knowledge: People fart the most in their sleep, particularly if they went to Taco Bell  (This was funny and I like Taco Bell)
While driving in  Pennsylvania , a family caught up to an Amish carriage. The owner of the  carriage obviously had a sense of humor, because  attached to the back of the carriage was a hand printed sign… "Energy efficient vehicle: Runs on oats and grass. Caution: Do not step in  exhaust."
20 May – Hits @ 0030 = 422724.  Today I made an attempt at…well I'll just call it some American-Chinese Chicken Corn Soup.  We had some mix for some Chinese Chicken Corn Soup and I wanted to see what it tasted like.  I was more interested in the taste of the mix and not the soup itself.  So what I did was to make the soup as per instructions, except I added potatoes, carrots, extra onions and a couple of little hot peppers.  I just wanted to add the peppers for flavor, not for heat.  I tasted the soup before I added the mix, because that was cooked on the stove top separately, and after I added the mix.  I liked it better before the mix was added, so I guess we won't be buying that mix anymore.  It didn't taste bad, but I guess it's just one of those flavors that you have to get accustomed to, like caviar or scotch.
Lita changed her drawers today.  No, not the ones she wears, the ones she puts her clothes in.  Actually all it is a a couple of balikbayan boxes taped together.  Since we already have the money spent for this coming June, I told her that I would do my best to get her a little plastic chest of drawers in July.  Unless you get a wooden chest of drawers made, I think the plastic ones are the only ones they have around here.  They are not so bad though.  They are made of hard plastic and the top 2 drawers have locks on them.  I'm not sure of the price of them, but I hope I can get her one and me one also.  I've got shirts piled up in the closet that Arnel made for us.  Since I've lost those 70 pounds, I can now fit into a lot of the shirts that I outgrew.  I brought most of them with me because I figured I'd be losing weight, but I also brought the larger ones to wear in the mean time or in case I didn't lose weight.  Anyway … Lita's top box was getting saggy and needed to be replaced.  She said that this one should last for another year, like the last one did, but I really should try to get her one of the store made ones.  It will look better and also take up a little less room.
I added a couple of links to Blogroll today.  They are both the sites of Ronald Ricafort, one of my readers, and he is also the owner of the blog "My Calbayog Diary", which is also under Blogroll.  The names of the 2 I added today are:  "Out in Calbayog City, Again" and "Calbayog City".  Feel free to check them out.  I found some very insightful information in a couple of articles in his sites.
Useless Knowledge: In ancient Greece, women counted their age from the date on which they were married, not from the date of their birth, a tradition many women appear to follow today.  (C'mon now … this was funny, wasn't it?  Maybe this is why a lot of women lie about their age so much)
21 May -Hits @ 0031 = 426846.  I received a little over 4,000 hits in the last 24 hours.  It's been awhile since I've gotten so many.  I have been getting in the 3,000's consistently though.  I figured out that if I average 3000 hits per night, at the end of a year I'll have over 1 million hits, actually it comes out to 1,095,000 (3000 x 365) so if I get a little more than 3000 (which I usually do), I could get close to 1.5 million per year.  I didn't get that the first year, because when I first started it took a couple of months to get that first 3000 hits.
I didn't even turn the computer on until 4:10pm.  I just didn't have a good reason to turn it on except to check my mail and the comments on here.  I don't get that many comments and most of my e-mails are in the spam folder, so it really wasn't that important to turn on the computer early.
This is a nice looking place.
http://www.ayalaland.com.ph/alabang_town_center
There is lots of thunder and lightning out there again today, but it's not raining right now.  It did rain a little earlier, but it has stopped now.  It didn't rain that much anyway.
They are having a big meeting at the Ciriaco Hotel tonight.  I'm not exactly sure what it is all about, but it has something to do with the new mayor.
Well I don't want to get started with 22 May because there is a bit of information for that day and I want to have enough information for the next post.  I should be able to do 22 and 23 May on the next post, then 24 and 25 after that.  Hopefully I'll be caught up by then and I'm going to try to do a post everyday again, like I use to.  They might not all be very big, but … I guess if they are too small, I will still wait and do 2 days worth at once.  I'm going to try to remember to write down more things and put it in more detail, so I can have enough information every day.  There are some days that are just totally super slow and I doubt that even I could blah, blah blah enough to make it worth while.  And I can blah, blah, blah a lot.
So I'm just going to finish putting in the pictures, then add the Philippine history for 19 and 20 May and call it another post complete.  I had someone tell me that they liked the Philippine History, but I hope he is not the only one.  Does anyone else out there read it, even just once in awhile?  I don't expect you to read it all the time.  Sometimes it is boring, but every now and then they have something that catches my eye and I have to read it.  I try to let you know if it's something that I like, I put it within the text of the post.
So did you see what I did with the last 3 paragraphs, including this one?  I blah, blah, blahed for about 300 words now.  I hope that I even made it sound at least half way interesting the way I phrased everything too.  Now when I add in the Philippine History, it will look like a pretty decent post, instead of one that is too short.
Thanks for reading and please be sure to let me know if you want anything in particular in the blog, or if you have any questions be sure to ask.  I think that everyone that has asked me a question, I have answered it sufficiently.  Some of you people out there that I have answered questions for, do you agree?  Have I been helpful enough, or do I need to step it up a notch?
Useless Knowledge: The Japanese beetle, found in the eastern United States and Canada, is the only bug in these countries you need be concerned about if it becomes lodged in your ear, for it can chew through your eardrum in a matter of minutes. Other bugs can be removed without the same urgency.  (This is probably not useless knowledge for the people in the eastern US and Canada)
Salamat, Palaam
Today in Philippine History
(Colonial) Spanish Queen Isabella II
1865 – A royal decree from Spain's Queen Isabella II reorganizes secondary education in its Southeast Asian colony, the Philippine Islands (Las Islas Filipinas), by dividing schools into
public and private
, with the University of Santo Tomas being considered public and Colegio de San Juan de Letran being classified as
College of the First Class
; San Juan de Letran is grouped with the Ateneo Municipal, the College of Bacolor and other secondary schools under the
category which is of two kinds
, including the kind that offers a complete course leading to the bachelor of arts degree; the colonial-era decree gives gives the rector of UST the responsibility of supervising and inspecting secondary schools as it becomes
the ex-oficio head of the secondary and higher education in the Philippines
.
Representatives of the Philippine Government: Capt. Zialcita, Lt. Col. Barreto, Gen. Del Pilar & Gonzaga
………………………………………………………………………………………………………………………………………………….. 1899 – Filipino representatives
Gen. Gregorio del Pilar, Lt.-Col. Alberto Barreto, Capt. Lorenzo Zialcita, and Gracio Gonzaga
arrive in Manila by special train from Malolos to negotiate peace terms with the United States Philippine Commission [read: imperialist commission], three months after the Bald Eagle President William McKinley deliberately triggered the
Philippine-American War (1899-1914);
with the two parties conferring at the Ayuntamiento in Intramuros district, Manila, the imperialist Bald Eagle commission headed by Jacob Schurman
rejects the armistice
sought by the local freedom-fighters, insisting instead that the Filipino army surrender unconditionally to the American sovereignty; in two days' time, the cabinet of President Emilio F. Aguinaldo will
exhort the Filipinos to continue the fight
to defend Philippine independence.
— on the same day, Admiral George Dewey, the United States military official who earlier forged alliance against Spain with, and deceptively promised, then-revolutionary leader Aguinaldo that the U.S. would supposedly honor Filipino independence, leaves the Philippines for the U.S. on board his flagship, the USS Olympia; over a period of several months, Dewey, along with consul generals to Singapore, E. Spencer Pratt, and to Hong Kong, Rounsenville Wildman, respectively took turns making Aguinaldo believe that the Bald Eagle only had good intentions; thus Aguinaldo stupidly allowed the free entry of the G.I.'s in the archipelago, eventually permitting the foreign 'allies' that would turn invaders to position themselves for the Mock Battle of Manila that deceived the world into believing that it is the Americans and not the Filipinos who overcame the Spaniards.
Photo credits:
http://i2.squidoocdn.com/resize/squidoo_images/590/draft_lens2386777module14943982photo_1234145295IsabellaII.png;  http://philippineamericanwar.webs.com/filipinosnegotiate.htm
Imperialist Gov. Taft addressing the "Philippine Assembly"
1909- While the Philippine-American War (1899-1914) continues, particularly the part of the Moro resistance, the first session of the First Philippine Assembly, the colonial legislative body in the Philippine Islands during the United States' imperialist rule, is concluded; the body that has served as the lower house of the mostly American Philippine Commission passes a resolution declaring that the Filipino people's constant desire is to attain independence; genuine democratic Filipino representation to the Philippine Assembly, which for a time was effectively the lower house to the appointive, all-American Philippine Commission, is however dubious because at least during the first elections in 1907, only less than 1.5% of the Filipinos were able to vote their representatives to the Assembly, because of the severe qualification requirements (real estate ownership worth at least P500; able to read and write; and could speak in Spanish or English)
Photo credit: http://reference.findtarget.com/search/Philippine%20Assembly/